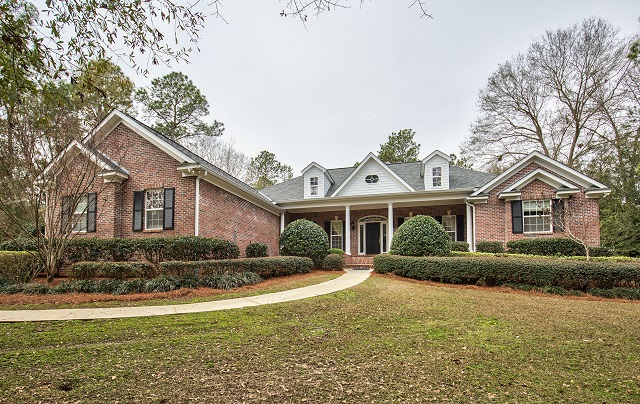 7345 Ox Bow. This beautiful executive home has 4092 square feet. Built in 2004 on 1.56 acres.
4 bedrooms and 5 baths. Power on natural gas generator which supplies power to critical areas of the home. 750 square foot, all brick, heated and cooled building with bathroom currently being used as a shop. Could easily be converted to an in-law suite, teen haven, pool cabana, etc. Chef's kitchen with every high end upgrade imaginable. Brazilian mahogany wood floors, Thermador and subzero wine center, huge master suite and his and hers closets, central vacuum, tankless water heaters, security system, granite counter tops. Other amenities too numerous to elaborate on. Price $720,000.
9 April 2018
TALLAHASSEE MARKET UPDATE
Many encouraging trends are presenting within the national economy. Growth in the manufacturing sector is still going strong. Tariffs on goods from China continue to dominate the news. Trade war concerns have prevented mortgage rates from jumping. Jobless claims have fallen to the lowest point since 1973. A tightening labor market could boost wage growth possibly leading to inflation. Construction spending was up in February after going unchanged in January. Home buyers are exceeding their budgets after their prices on their dream homes are rising. Rising home prices may keep some out of the market. A recent Freddie Mac survey finds that 67% of current renters view renting as more affordable than owing.
The aging of America, more immigration and a population that is heading south are a few big trends that bear watching over the next decade.John Burns, CEO of John Burns Real Estate consulting had his team spend more than 9,000 hours researching demographic shifts over the next 10 years. More people will be over the age of 65 within the next 10 years. That is 38 % of the population. This will initiate more clamor for urban living. There will be 8 million more affluent immigrants coming here over the next decade. More people will be heading south where 42% of the nation lives now. That number will escalate to 62%. There will also be more people passing away and leaving a household behind. Estimates indicate that there will be 25.8 million newly formed households within the next few years, of that number 13.3 million will be created by someone that dies.
Here in Tallahassee the market has varied little from last quarter. We are still in a shortage of inventory. We are moving into the more robust part of the selling season. However we will also see a correlated increase in demand. Whereas we are sitting on 4.2 months of supply. That can rapidly change to a smaller number if demand outpaces supply. With a new election cycle and other dynamics that will push buyers this way we will continue to see multiple offers and price pressure on homes, especially in the NE section of town.
To quote some numbers, for those of you who like such. 3/20/17 through 3/19/18 there were 5548 homes sold locally. Compare that to the previous year run of 5151. That is a 7% change. The value trend tells us that the average median sales dollar was $168,000 for the prior year. That compares to an average of $179,000 for the most current year.
There are a lot of "For Sale by Owner" signs out there as well as lots of people using Crags List, Zillow and lots of other DIY measures. Recent market dynamics and seller/buyer traps persist out there. There has not been a more important time to use the professional. Choose one you know well or is highly recommended. I would consider it an honor to work with you or anyone you refer my way.
Worthy of your trust and recommendation.
Lee Vass, Owner-Broker
Lee Vass Realty
3005 Shamrock South
Tallahassee, FL 32309
850-545-3439
elvass@elvass.com
http://elvass.com